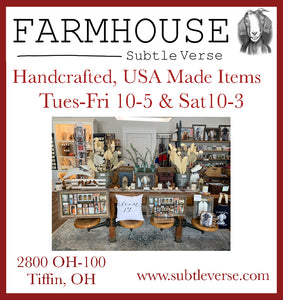 NEW HOURS!
FARMHOUSE by Subtle Verse is OPEN!
Hours: Tuesday-Friday 10-5 & Saturday 10-3.
Everything in our store is created by an Artist or a Small Family Business. Stop in to find unique home decor & gifts.
Also, available by appointment. Contact us at 419-443-5506.
Orders can still be Picked Up at the store. When checking out, choose the Pick Up option.
Hope to see you!!
For wholesale inquiries, contact me at 419-443-5506.
---
WELCOME TO SUBTLE VERSE Photography by Tiffany Kimmet
My photographs offer a new perspective on every day things.  How many times have you walked by a house and not seen its true beauty?  I capture a unique view of items most people don't notice.  I believe even the simple things have beauty of their own.
I live in Tiffin, OH and started my photography business in 2005.  At first, I only photographed weddings, babies, etc.  But I traveled to Tucson, AZ and fell in love with the architecture there.  Ever since that trip, I have been photographing the little things in life.  Wherever I go, I look for things that capture my eye whether it is an old water faucet or a colorful door.
I have been inspired to write bible verses on my photographs.  I feel it makes the photograph complete and expresses my true feelings.  I hope these photographs can provide inspiration and encouragement to people through the good times and bad.
My husband, Jason, quit his job in 2011 and joined me.  We now do this full time along with our two kids, Samantha and Xavier.