---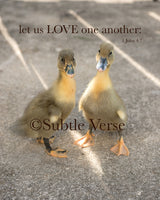 At shows, people always ask me for if I have any pictures of ducks. So when I found out that some friends have baby ducks, I needed to get some pictures! I have always loved ducks. It looks like they are smiling all times.
'let us LOVE one another:' 1 John 4:7
Our prints are printed on Epson Professional Paper using an Epson Printer.  They are guaranteed colorfast for 100 years.  The prints come in a plastic sleeve with an acid-free backing.
 They come in 3 sizes 8x10 - $25, 11x14 - $40, and 16x20 - $65.