---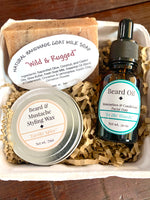 BEARD OR NO BEARD! Our new Beard Kit makes a wonderful, natural, organic gift! Whether you shave and need a nourishing, moisturizing oil and great scent added to your routine, or you'd like to condition your beard, this is great for every guy's face!
This can be used on all hair types and lengths; from those with stubble to long full beards. It can also be used on shaved or bald heads to keep the hair follicles and skin nourished properly.
What is Beard Oil?
Beard Oil keeps your facial hair soft, moisturized and shiny. It absorbs into hair and skin quickly. No more dry, itchy, flaky beard!
Our Beard Oil is made with organic Jojoba Oil, Argan Oil, and Meadowfoam Seed Oil, all which have wonderful properties for moisturizing and conditioning hair and skin. These oils are infused with 100% pure, therapeutic grade essential oils of Rosemary, Cedarwood, Siberian Fir, and Frankincense.
What is Beard Wax?
Beard Wax controls, shapes, and tames your beard, while hydrating and sealing in moisture. Overall, it creates healthy beard growth.
Our Beard Wax is made with organic Beeswax and Mango Butter which give your facial hair extra hold. The Meadowfoam Seed Oil and Jojoba Oil help to hydrate and condition your hair and skin. These ingredients are infused with our special Earthy Spice blend of 100% pure, therapeutic grade essential oils of Copaiba, Black Pepper, Clove, Sandalwood and Vetiver.
About our Soap:
As a bonus, our Beard Kit includes a small bar of our "Wild & Rugged" soap. This manly, earthy soap is scented with 100% pure essential oils of Cedarwood, Cinnamon Leaf, and Orange, and is colored with real Ceylon Cinnamon powder.
All of our natural handmade goat's milk soaps are made with fresh, raw goat's milk (from our sweet little Nigerian Dwarf Goats). Our soaps contain a base of pure olive oil, unrefined coconut oil, shea butter, castor oil, and kaolin clay.