---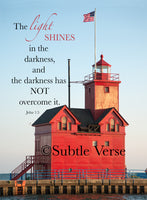 Every summer we vacation in South Haven, MI. It's one of our favorite places to go. We both love the beach and Lake Michigan. While we were on vacation, we had an appointment to meet with Family Central - Focus on the Family in Holland, MI. It's a very nice Christian store downtown Holland. During the meeting, the manager asked if I had a picture of Big Red. I did at one time when I first started but I didn't like it. I thought I could do better LOL. So I said that I would get one. The next day, Jason and I went to the beach so I could take pictures. We waited until close to dusk when the lighting was perfect. I love how this turned out! This picture is now available here and at Family Central in Holland.
The light SHINES in the darkness, and the darkness has NOT overcome it. John 1:5
We offer two different sizes of ropes - 5x7 - $18 and 11x14 - $35.  They are indoor/outdoor material.  Perfect for a bathroom, hanging on your porch, or hanging on the wall.
The 11x14 Rope is made with a thicker plaque and rope.