---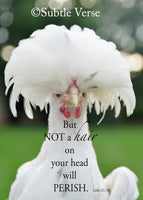 This is my neighbor's chicken.  I was out walking one day and she asked me to come over to see her new chicken.  This girl is hilarious!  When I was taking the picture, I had my neighbor hold her up in the air.  Charlene fell asleep!!                                       
"But not a hair on your head will perish." Luke 21:18
Our prints are printed on Epson Professional Paper using Epson Printer. They are guaranteed colorfast for 100 years. The prints come in a plastic sleeve with an acid-free backing. 
The prints come in 3 sizes 8x10 - $25, 11x14 - $40, and 16x20 - $65.