---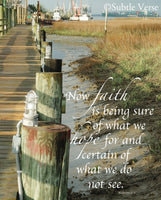 This photograph was taken in Charleston, SC.  We love visiting new places and seeing new things.  I love how different the scenery is from the Midwest.  This is one of my favorite verses.  Always have faith. 
"Now faith is being sure of what we hope for and certain of what we do not see." Hebrews 11:1
Our prints are printed on Epson Professional Paper using an Epson Printer. They are guaranteed colorfast for 100 years. The prints come in a plastic sleeve with acid-free backing. 
The prints come in 3 sizes 8x10 - $25, 11x14 - $40, and 16x20 - $65.