---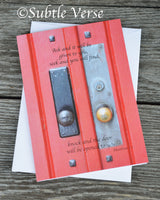 I took this picture in Chicago.  These are church doors.  I love the fact that the doorknobs are missed matched but yet fit perfectly together.  
"Ask and it will be given to you, seek and you will find, knock and the door will be opened to you."  Matthew 7:7
The notecards are blank inside and come in a plastic sleeve with an envelope.