---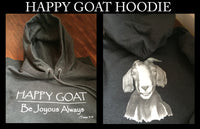 When I took the picture of the Happy Goat, I really didn't know how popular he would be!  People loved him so much that I decided to make Happy Goat tees and hoodies.  It's fun to wear them because you always get a reaction to it...lots of smiles, some questions and a few puzzled looks...lol.  
The front of the hoodie has Happy Goat - Be Joyous Always on it.  The back is the picture of the goat.  We changed the design last year to everything on the front (see the Happy Goat Apparel tab).
The hoodies are unisex and are true to size.  
We have a limited quantity left - Small - $22 and Large - $22