---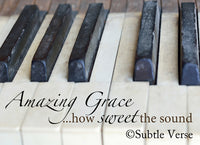 I found someone who restores pianos.  He gathered all of the keys and we put them together.  I love how old and dusty they look.  This is one of my favorite songs and thought it would be a perfect fit for the picture.                                                 
"Amazing Grace...how sweet the sound."
Our prints are printed on Epson Professional Paper using an Epson Printer.  They are guaranteed colorfast for 100 years.  The prints come in a plastic sleeve with an acid-free backing.
 They come in 3 sizes 8x10 - $25, 11x14 - $40, and 16x20 - $65.