---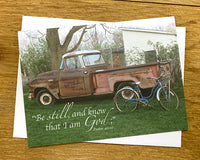 I took this picture at St. Francis Convent in Tiffin, OH.  It's down the road from where I live so we always ride our bikes or walk there.  One summer evening, we were walking around and I saw a Sister park her park right in front of the truck.  I didn't have my camera so I had Jason run home to get it.  He can run a lot faster than me!  We call this picture, 'Father's Truck, Sister's Bike'.

"Be still, and know that I am God;"  Psalm 46:10
The notecards are blank inside and come in a plastic sleeve with an envelope.