---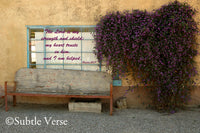 This is my favorite picture of all time.  I took this picture in Tucson, AZ.  I didn't want to go on this trip.  My husband wanted me to go so I went but wasn't happy about it!  I was having health issues at the time with my heart.  Once I got there, I found this old area of Tucson and went around taking pictures.  When I got home, I found a local business to print my pictures.  The owner then asked me if I wanted to be in the first Tiffin Art Show.  Of course, I did!!  That was my dream!  It wasn't until after I got this printed did I notice on the bench in very light writing, it has "God's greatest gift put man's dreams to heart" written on it.  If you notice the bush is in the shape of a heart!  God is good!

"The Lord is my strength and shield; my heart trusts in him, and I am helped."  Psalm 28:7
Our prints are printed on Epson Professional Paper using an Epson Printer. They are guaranteed colorfast for 100 years. The prints come in a plastic sleeve with an acid-free backing. 
The prints come in 3 sizes 8x10 -$25, 11x14 -$40, and 16x20 -$65.