---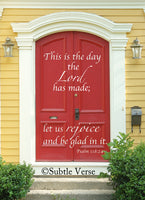 I took this picture in South Haven, MI.  South Haven is one of our favorite places.  We go there every summer and we have such a good time.  I'm really not a morning person, so I remind myself of this verse when I don't want to get up.  I will also sing this to my son, who has the same problem I do!  Someday he will appreciate it!

"This is the day the Lord has made; let us rejoice and be glad in it."  Psalm 118:24
Our prints are printed on Epson Professional Paper using an Epson Printer. They are guaranteed colorfast for 100 years. The prints come in a plastic sleeve with an acid-free backing.
The prints come in 3 sizes 8x10 -$25, 11x14 - $40, and 16x20 -$65.