---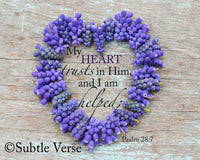 Last Spring, my son picked one of these flowers and rubbed in on my arm (he is 13!).  When he did that, I thought what a great picture these would make!  The next morning, I went outside and picked all of them.  I kept thinking to myself I hope I have enough for my picture.  Of course, I had the exact amount I needed!                                              
"My heart trusts in Him, and I am helped."  Psalm 28:7
Our prints are printed on Epson Professional Paper using an Epson Printer. They are guaranteed colorfast for 100 years. The prints come in a plastic sleeve with an acid-free backing. 
The prints come in 3 sizes 8x10 -$25, 11x14 - $40, 16x20 - $65.