---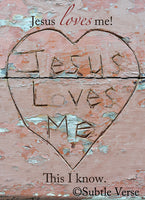 I've always loved this song.  It reminds me of when I was little at vacation bible school.  We have an old bench on our porch.  Jason carved the heart and Jesus loves me in it.  It's a good reminder when we walk in our house.                                              
"Jesus loves me!  This I know."
Our prints are printed on Epson Professional Paper using a Epson Printer. They are guaranteed colorfast for 100 years. The prints come in a plastic sleeve with an acid-free backing. 
The prints come in 3 sizes 8x10 - $25, 11x14 - $40, and 16x20 - $65.