---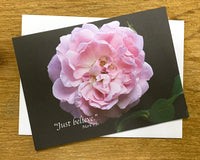 My friend has the most amazing garden.  My kids and I went to her house and had so much fun looking at the flowers, playing with the kittens, eating berries, etc.  When I took this picture, I knew the verse needed to be simple.                                            
"Just believe."  Mark 5:36
The notecards are blank inside and come in a plastic sleeve with an envelope.