---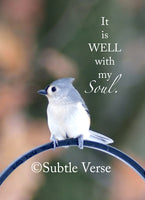 I'm not a very patient person so the thought of sitting still for a long period of time waiting on birds doesn't sound like a lot of fun to me.  My sister and brother-in-law have a lot of birds in their backyard.  One weekend when I was visiting, I decided today is the day!  I only had to sit out there for about an hour before this little bird came.  I think he's very cute!  I actually enjoyed myself listening and watching all of the birds.  It was very relaxing!  
"It is well with my soul."
Our prints are printed on Epson Professional Paper using an Epson Printer. They are guaranteed colorfast for  years. The prints come in a plastic sleeve with an acid-free backing. 
The prints come in 3 sizes 8x10 - $25, 11x14 - $40, and 16x20 - $65.