---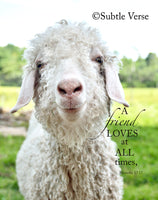 I went to a local alpaca farm called Alpaca Meadows near Mansfield, OH to take some pictures.  The owners have an amazing farm.  I got to go into the field with the alpacas and then spend time with the goats.  I have never seen a goat that looked like this before.  He came to me wanting to be friends!                                            
"A friend loves at all times," Proverb 17:17
Our prints are printed on Epson Professional Paper using an Epson Printer. They are guaranteed colorfast for 100 years. The prints come in a plastic sleeve with an acid-free backing. 
The prints come in 3 sizes 8x10 - $25, 11x14 - $40, and 16x20 - $65.