---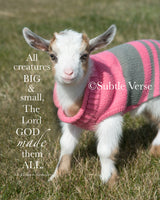 Lucy is the cutest goat I've ever seen. Some of the pictures were just too perfect to use! Lucy had a rough start to her life. Her mom was having problems giving birth and had to have an emergency c-section. Her two siblings didn't make it. Then her mom refused to nurse her. So her owner took her in and now is her 'mom' and takes her everywhere! I love it! God has a big plan for her!                                                
All creatures BIG & small, The Lord God made them all. - Cecil Frances Alexander
Our plaques come with a keyhole and a peg that is stored in the back of the plaque.  It's all ready to hang or display on your desk or counter!  They come in 2 sizes - 5x7 or 5x10 depending on the picture.