---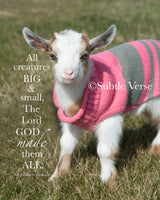 I usually take the picture first and then find the verse but with this picture I found the verse first.  It took me about 3 years to find the perfect anchor for the picture. I was at the Shipshewana Flea Market when I saw this.  I knew I had to have it.                                                
"We have this hope as an anchor for the soul," Hebrews 6:19
We offer two different sizes of ropes - 5x7 - $18 and 11x14 - $35.  They are indoor/outdoor material.  Perfect for a bathroom, hanging on your porch, or hanging on the wall.
The 11x14 Rope is made with a thicker plaque and rope.