---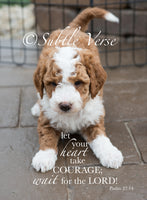 Meet Murphy! He is a Golden Doodle. I became friends with a woman who breeds these cute, little puppies. She invited me to take pictures of them. Of course, how could I resist! They are so cute! When I got there, she got all 9 of the puppies out! I wanted to take all of them home! I had so much fun. Murphy soon became the star of the shoot.                        
'let your heart take COURAGE; wait for the LORD!' Psalm 27:14
We offer two different sizes of ropes - 5x7 - $18 and 11x14 - $35.  They are indoor/outdoor material.  Perfect for a bathroom, hanging on your porch, or hanging on the wall.
The 11x14 Rope is made with a thicker plaque and rope.