---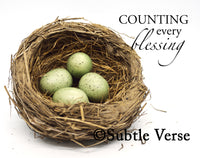 When I was in my car, the song 'Counting Every Blessing' was playing.  Instantly, I thought about eggs in a nest.  Shortly after that I was at a show, Prairie Peddler in Butler, OH, and was walking around.  I came across a vendor selling nests!  I was so excited and found the perfect one for the picture!
Counting every blessing.
Our prints are printed on Epson Professional Paper using an Epson Printer.  They are guaranteed colorfast for 100 years.  The prints come in a plastic sleeve with an acid-free backing.
The prints come in 3 sizes 8x10 - $25, 11x14 - $40, and 16x20 - $65.