---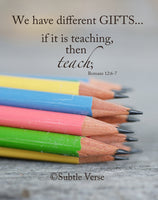 I believe each of us has a God-given gift.  Sometimes it takes a while to find it but when we do we need to use it to glorify God.  
"We have different Gifts...if it is teaching, then teach;"  Romans 12:6-7
Our prints are printed on Epson Professional Paper using an Epson Printer.  They are guaranteed colorfast for 100 years.  The prints come in a plastic sleeve with an acid-free backing.
The prints come in 3 sizes 8x10 - $25, 11x14 - $40, and 16x20 - $65.