---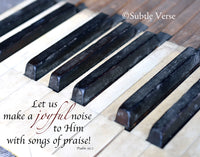 I don't play the piano but always wanted to.  I found someone that restores pianos.  He had to put the keys together for me to take the picture.  He started dusting off everything and I had him stop!  The dust adds character!
"Let us make a joyful noise to Him with songs of praise!"  Psalm 95:2
Our prints are printed on Epson Professional Paper using an Epson Printer.  They are guaranteed colorfast for 100 years.  The prints come in a plastic sleeve with an acid-free backing.
The prints come in 3 sizes 8x10 - $25, 11x14 - $40, and 16x20 - $65.