---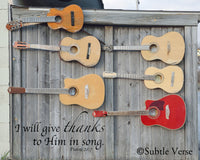 We were in Petoskey, MI at a show, when we drove past these guitars on a fence.  The lighting was just right and I just had to stop!  I love how the guitars are old and weathered.                                                 
"I will give thanks to Him in song."  Psalm 28:7
Our prints are printed on Epson Professional Paper using an Epson Printer.  They are guaranteed colorfast for 100 years.  The prints come in a plastic sleeve with an acid-free backing.
The prints come in 3 sizes 8x10 - $25, 11x14 - $40, and 16x20 - $65.