---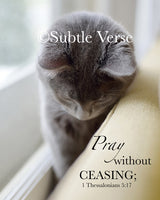 We recently got two cats named Ronnie and Ruby.  I thought we would never have cats again but my husband surprised me.  He found two Russian Blue cats that are hypoallergenic and don't shed.  They are the cutest cats and probably the best cats I have ever had.  I grew up with cats and love them.  I love that they have their own weird personality and run around the house doing crazy things.  I don't know why but I find it hilarious.  Of course, I had to take pictures of them.  As I was taking pictures, I realize that cats don't smile.  They do with their eyes but their mouths stay the same.  So when Ronnie looked down, I knew this was the picture I was meant to use. 
Pray without ceasing, 1 Thessalonians 5:17
We love the look of the Framed Canvas.  The canvas adds a subtle texture to the picture and the old barn wood frame adds even more character.  Each frame is hand made and unique. 

Available in 8x10, 11x14, & 16x20.