---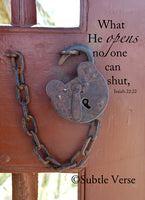 Every year we do a show in Virginia Beach over Thanksgiving.  On Thanksgiving Day, we usually try to find something fun to do.  One year, we went to Williamsburg.  I love the history of it and all of the old doors.  I found this old gate. I thought this verse fit perfectly with it.
"What He opens no one can shut,"  Isaiah 22:22
Our prints are printed on Epson Professional Paper using an Epson Printer.  They are guaranteed colorfast for 100 years.  The prints come in a plastic sleeve with an acid-free backing.
 The prints come in 3 sizes 8x10 - $25, 11x14 - $40, and 16x20 - $65.