---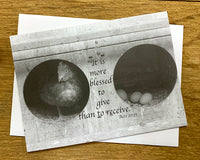 I love chickens!  They are so funny to watch.  I took this picture when my son was 2 years old.  After I took the picture, I said to him, "Why don't we buy some eggs and have them for lunch?"  He replied, "No eggs from chickens, eggs from fridgerator."                                               
"It is more blessed to give than to receive."  Acts 20:35
The notecards are blank inside and come in a plastic sleeve with an envelope.