---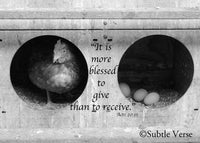 I love chickens!  They are so funny to watch.  I took this picture when my son was 2 years old.  After I took the picture, I said to him, "Why don't we buy some eggs and have them for lunch?"  He replied, "No eggs from chickens, eggs from fridgerator."                                               
"It is more blessed to give than to receive."  Acts 20:35
Our prints are printed on Epson Professional Paper using an Epson Printer.  They are guaranteed colorfast for 100 years.  The prints come in a plastic sleeve with an acid-free backing.
 The prints come in 3 sizes 8x10 - $25, 11x14 - $40, and 16x20 - $65.