---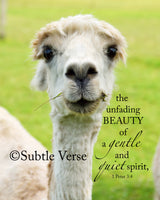 I love Sophie!  I visited Alpaca Meadows Farm near Mansfield, OH last summer.  The alpacas had just been sheared.  I love the looks are their faces with their haircuts!  They were all making me laugh.  If you are ever in the Mansfield area, I highly recommend visiting Alpaca Meadows.  
"the unfading beauty of a gentle and quiet spirit,"  1 Peter 3:4
Our prints are printed on Epson Professional Paper using an Epson Printer.  They are guaranteed colorfast for 100 years.  The prints come in a plastic sleeve with an acid-free backing.
 The prints come in 3 sizes 8x10 - $25, 11x14 - $40, and 16x20 - $65.