---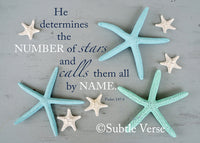 I saw the verse about a year before I took the picture.  I love it but I didn't know how to get a picture of stars!  We went to Florida over Christmas and the first store I went in had starfish in different colors.  I knew instantly I needed them for my picture!                                                   
"He determines the number of stars and calls them all by name."  Psalm 147:4
Our prints are printed on Epson Professional Paper using an Epson Printer.  They are guaranteed colorfast for 100 years.  The prints come in a plastic sleeve with an acid-free backing.
 The prints come in 3 sizes 8x10 - $25, 11x14 - $40, and 16x20 - $65.