---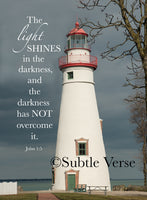 Both Jason and I love water. He loves to fish and I love to swim but we both love being close to the water. Always on the spur of the moment, we take off to the lake, walk our path, visit our usual places, and sometimes take pictures. I took this picture on a winter day. It was sunny one minute and then the dark clouds rolled in. 
'The LIGHT shines in the darkness, and the darkness has NOT overcome it.' John 1:5
I love the look of the Framed Canvas.  The canvas adds a subtle texture to the picture and the old barn wood frame adds even more character.  Each frame is hand made and unique. 
Available in 8x10, 11x14, 16x20 & 24x36