---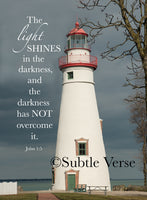 Both Jason and I love water. He loves to fish and I love to swim but we both love being close to the water. Always on the spur of the moment, we take off to the lake, walk our path, visit our usual places, and sometimes take pictures. I took this picture on a winter day. It was sunny one minute and then the dark clouds rolled in. 
'The LIGHT shines in the darkness, and the darkness has NOT overcome it.' John 1:5
Our plaques come with a keyhole and a peg that is stored in the back of the plaque.  It's all ready to hang or display on your desk or counter!  They come in 2 sizes - 5x7 or 5x10 depending on the picture.