---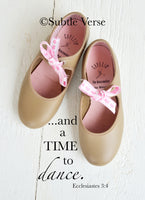 Over the years, I've been asked if I had tap shoes. Recently, a dance instructor asked me the same thing and I said what I always say is that I would if I had cute tap shoes.  Well, she brought me some!  So I finally have a picture of Tap Shoes!
...and a TIME to dance.  Ecclesiastes 3:4
I love the look of the Framed Canvas.  The canvas adds a subtle texture to the picture and the old barn wood frame adds even more character.  Each frame is hand made and unique.  
Available in 8x10, 11x14, & 16x20.