---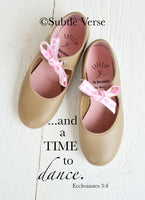 Over the years, I've been asked if I had tap shoes. Recently, a dance instructor asked me the same thing and I said what I always say is that I would if I had cute tap shoes.  Well, she brought me some!  So I finally have a picture of Tap Shoes!
...and a TIME to dance.  Ecclesiastes 3:4
Our plaques come with a keyhole and a peg that is stored in the back of the plaque.  It's all ready to hang or display on your desk or counter!  They come in 2 sizes - 5x7 or 5x10 depending on the picture.