---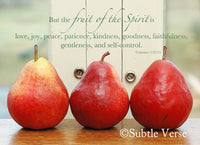 I love pears and always end up buying them for pictures.  It must be the shape of them that I love.  I took this in front of our old kitchen windows.  I think this verse is a good reminder of what we need to work on every day.
"But the fruit of the spirit is love, joy, peace, patience, kindness, goodness, faithfulness, gentleness, and self-control."  Galatians 5:22-23
Our prints are printed on Epson Professional Paper using an Epson Printer.  They are guaranteed colorfast for 100 years.  The prints come in a plastic sleeve with an acid-free backing.
 The prints come in 3 sizes 8x10 - $25, 11x14 - $40, and 16x20 - $65.