---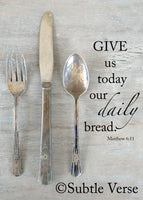 I love old things.  I found this set of silverware at the local antique store.  I thought this would be a great picture for a kitchen or dining room.  As soon as I took it, I asked my husband to print a 16x20 on canvas for our kitchen!  It's one of my favorites.

"Give us today our daily bread." Matthew 6:11
Our prints are printed on Epson Professional Paper using an Epson Printer.  They are guaranteed colorfast for 100 years.  The prints come in a plastic sleeve with an acid-free backing.
 The prints come in 3 sizes 8x10 - $25, 11x14 - $40, and 16x20 - $65.