---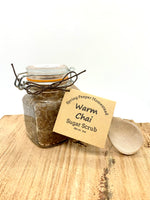 Are you suffering from dry, scaly skin that just won't stay hydrated? This is the perfect product to add to your skin care routine.  These handmade sugar scrubs will leave your body feeling fresh and rejuvenated! Exfoliate and also nourish your skin at the same time!
The benefits of exfoliating your body include breaking down and removing dead skin cells from the top layers of the skin to reveal healthy skin cells (and skin texture) beneath. Hydrating and moisturizing healthy cells (versus dead cells) may even promote smoother skin; A bi-weekly sugar scrub regimen is ideal for stimulating and increasing blood circulation for a healthy glow.
The best application of a sugar scrub is to apply after a bath or shower. This way your skin is moist and the scrub will dissolve as you apply it. Try to avoid applying the scrub on extremely dry or damaged skin. Do not apply to skin that is sunburned or healing from a wound! Rub gently in a circular motion for maximum exfoliation. After rubbing the scrub on, let it set to nourish your skin while you apply to another area. Once complete, rinse off the scrub and gently pat down your skin with a dry towel.
The scrubs should have the consistency of damp sand when you take them out of the jar, but will dissolve when you apply to wet skin.
Our sugar scrubs are made with the finest natural ingredients:

Warm Chai: non-GMO natural cane sugar, sunflower oil, cinnamon, cardamom, cloves, ginger, nutmeg
6 oz