---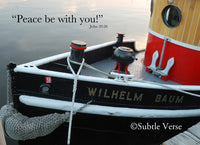 This is one of my favorite pictures from South Haven, MI.  We go on vacation there every summer.  I remember walking along the docks and seeing this boat.  I love the character that it has!  It was so calm and peaceful that I thought this would be a perfect verse for it!
"Peace be with you!"  John 20:26
Our prints are printed on Epson Professional Paper using an Epson Printer.  They are guaranteed colorfast for 100 years.  The prints come in a plastic sleeve with an acid-free backing.
 They come in 3 sizes 8x10 - $25, 11x14 - $40, and 16x20 - $65.